Central-Span - 2" Standing Seam Profile
The Central-Span panel has a traditional flat pan, vertical rib appearance, often preferred by traditional architects for superior appearance and performance. Central-Span roofs meet the requirements for a wide range of roof slopes, shapes, loads, weather and related conditions. It has many of the features required for architecturally shaped roofs. The Central-Span panel has the capability of being formed over the eave to provide a continuation of the roof down the sidewall to form a fascia.
---
R-Loc
R-Loc is a 26 gauge commercial panel that is an excellent choice for projects that require commercial grade performance. R-Loc is designed to maximize the potential of your structures, specifically the steel frame. With its added purlin bearing rib, you can count on easier installation and a more pleasing appearance.
---
M-Loc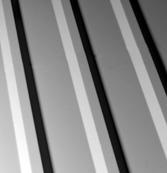 M-Loc is a structural roof and wall panel that can be installed directly over purlins or joists. The M-Loc panel is available in 26 gauge. This commercial panel has long served customers with lasting durability in commercial type applications.
---
Horizon-Loc
Horizon-Loc is a durable concealed fastener roof system with easy snap together installation. This architectural panel system uses minimally visible fasteners, giving your building a clean, attractive finish. The panels easy snap-on ribs attach rapidly with no hand seaming, making installation less expensive than traditional standing seam.
---
Prescision-Loc
Precision-Loc is our 24 gauge commercial/industrial wall and soffit panel. Precision-Loc is available with one rib (perforated or solid), and solid flat (no ribs).
---
Central Seam Plus
Central Seam Plus is a trapezoidal standing seam system designed for commercial and architectural projects. Central Seam Plus mechanically seamed system begins and ends in the high, reducing the risk of leakage at the rake.
---
Central-Loc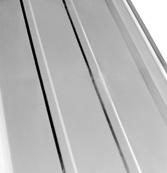 Central-Loc is a snap-together trapezoidal roofing system that is an excellent choice for commercial applications. Central-Loc is manufactured from Galvalume which offers two to four times the corrosion resistance of galvanized steel.
---
Central-Snap
Central-Snap is a vertical 1 3/4? snap-lock standing seam panel system that is sturdy and fire resistant, making it ideal for architectural and commercial applications. Installation is a snap, and its Galvalume substrate offers two to four times the corrosion resistance of galvanized steel. 24 Gauge Flat Sheets are also available.
Go Back